Concerts including House Concerts (just below)
Concerts with the Paganini Duo
About the PAGANINI DUO  (click here)
The BLUE MOUNBTAINS TRIO (click here)
---
PLEASE NOTE

Due to the conditions set by the current management our concerts have sadly finished December 2013.


We wish to thank our 15 000 visitors, with whom we could share the joy of music in this wonderful place over the last 16 years - including everyone at our last sold out concert - our 314th - on Boxing Day 2013.
---
---
HOUSE CONCERTS


with Georg Mertens

Cello Solo
or
Duos with Georg & Friends

Contact: georgcello@hotmail.com or ph. 02 4782 5440

*

How does it work?

You choose your program
You choose date and time
You choose your best friends

You may like an introduction to some pieces
You may like to know the history

You may be up for an experience shaped
according to your own dreams and never forget!

Georg is an expert on details
may it be music history or performance
*

COSTS?

Preferably I like donations by visitors after the concert.
Usually this covers the fee or most of it.
The remaining duties for the host are the refreshments and the wine!
House concerts may also take place in a venue of your choice.
Main features are:
* The performance is the main feature, it is not background music
* it is private, no tickets are sold.
There is a minimum fee.
(For details click here)

Contact: georgcello@hotmail.com or ph. 02 4782 5440

_______________________________________________

PROGRAM OPTIONS
Cello Solo

* The Bach Cello Suites including an introduction into their history and perfromance
* A "Cultures of the World" tour through Music
* Georg's own compositions and Improvisations
* choose any mixture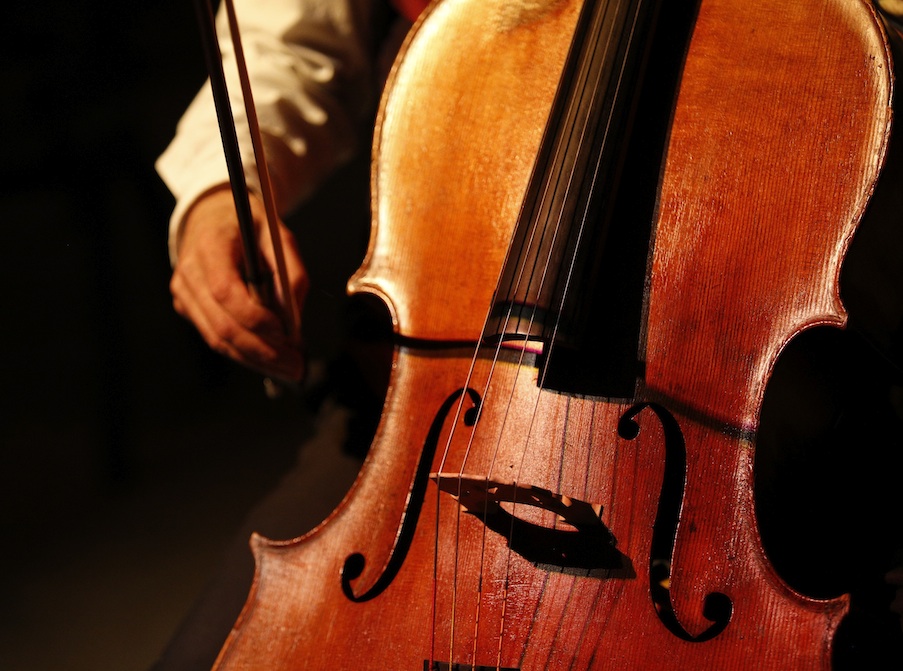 (Georg Mertens in concert)


Cello & Guitar
* Baroque to modern
* Spanish & South American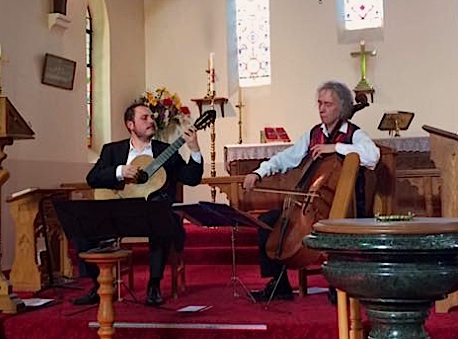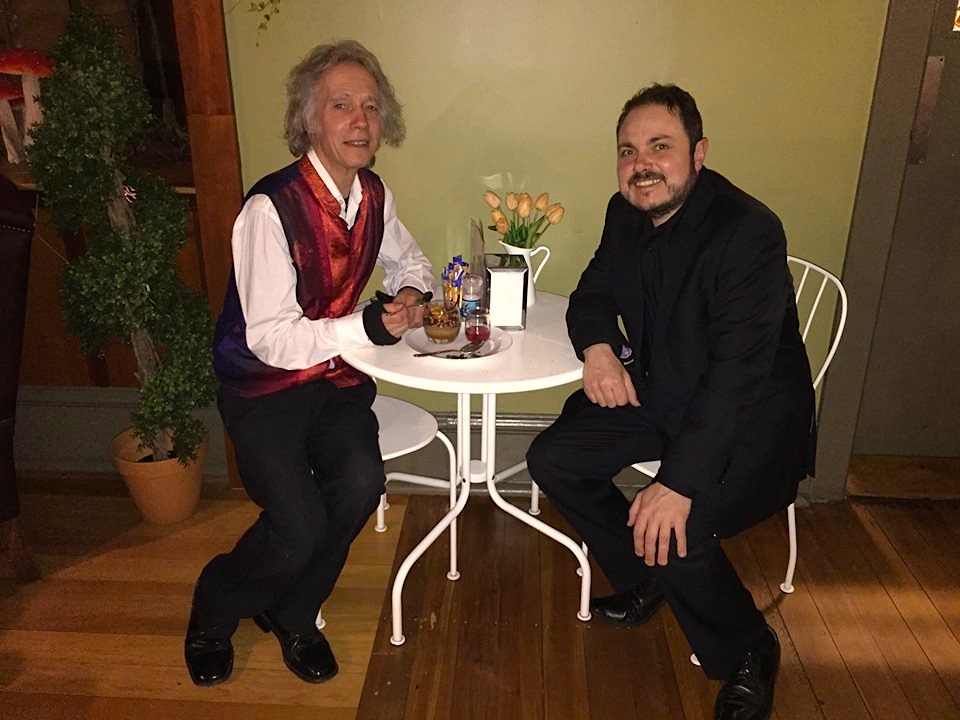 Georg & Giuseppe Zangari (left) at the concert (right) after a concert consuming chocolate
Other guitar partners: Sam Carter / Jared Killey / Heath Auchinachie



2 Cellos
* All Vivaldi
* Baroque & Classical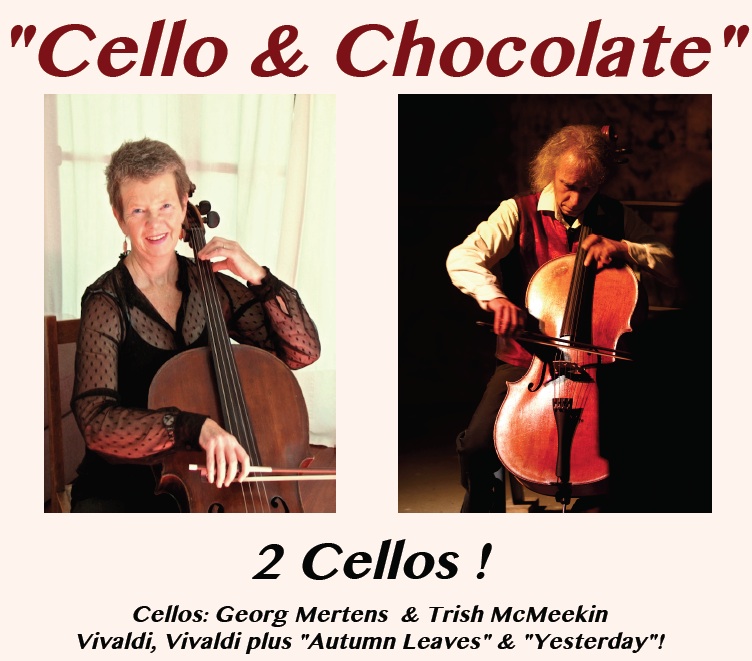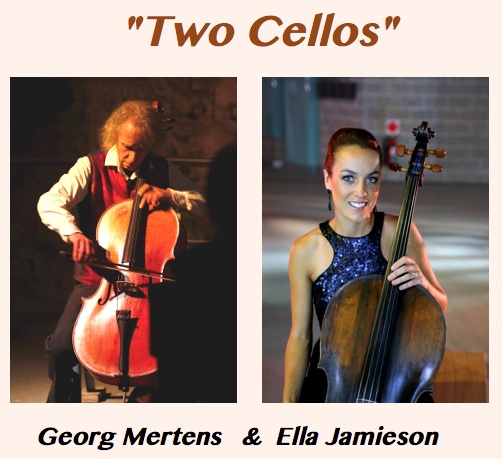 Georg and Trish McMeekin (left) & Ella Jamieson (right)


Cello & Piano
* A large repertoire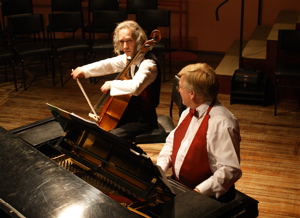 (Georg & Gavin Tipping rehearsing)

Contact: georgcello@hotmail.com or ph. 02 4782 5440
---
---
Saturday 14 May: 7.30 pm CANCELLED
"Cello / guitar plus violin & Chocolate"

Josophan's Gingerbread House Katoomba (Cnr Waratah & Lurline St)
Tickets $55 (children $45)
Tickets include hot chocolate & fine chocolate on arrival / dessert at intermissison
& take home chocolate (concert only $30 / child. $20)

Bookings essential ph 4782 6958

---
ABOUT THE PAGANINI DUO
(unfortunately the Paganini Duo is not able to perform any more due to a nerve injury of the violinist)
Gustaw Szelski - violin
Georg Mertens - guitar / cello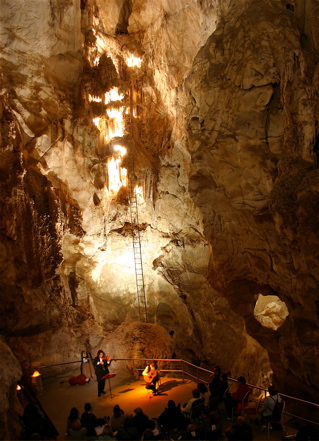 The PAGANINI DUO was formed by chance in 1989 when Georg visited the Blue Mountains and filled in for an accompanier of Gustaw.
The fusion worked extremely well; Georg then joined temporarily Gustaw's Winbourne String Quartet, and formed with its two violinists the Tarantella Trio, which played for more than a thousand functions and weddings in NSW.

Soon Gustaw and Georg started to play also as a Duo with a focus on Gypsy Music with a shift from entertainment to concert performances.
The Paganini Duo did several interstate tours and a South East Asia tour in 1999.
Their monthly concerts at Jenolan Caves commenced in January 2003.

In 1996 they recorded their first CD "BLUE MOUNTAINS GYPSIES".

From 2004 - 2007 the Paganini Duo recorded many of their concerts in the Cathedral Chamber.
        The most exciting of these Live recordings have been released on CD on their album:
"An Hour in Heaven" (2007).

CD "25 Years of Performing together (1989 - 2014)"
Recordings of our new pieces and new arrangements from 2007 - 2014.
A part of the recordings are from our last season of Live concerts at Jenolan Caves.
The other part has been recorded in Georg's music room in Katoomba.
__________________________________________________________________
The Paganini Duo have played
for the weddings of the musicians:
Roger Woodward, actor Jason Donovan,
broadcaster Natarsha Belling
& Events for
Gough & Margaret Whitlam, Barry Jones , Bob Carr
to the 50th birthday of singer Doug Parkinson
performed at:
the Sydney Opera House,
The Gulgong Opera House,
The Stockman's Hall of Fame (Longreach),
The Seymour Centre,
Hotel Intercontinental,
Ritz Carlton Double Bay,
Hilton, Ibis, Mercure,
Fairmont, Hydro Majestic

Broadcasts include:
'The Great Outdoors'
The 'Ray Martin Show'
'Sydney Weekender'
'Beyond 2000'
'Good Morning Australia'
'FRESH'
and hundreds of radio stations.
______________________________________________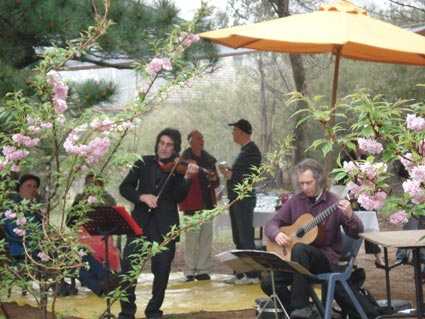 A Wedding in the Blue Mountains with the Paganini Duo
( photo George Winston)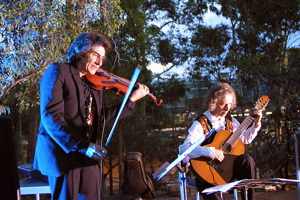 Opening of the "Brain Dynamics Unit" at Westmead Hospital with the Paganini Duo
_______________________________________________

THE BLUE MOUNTAINS TRIO
Style - History - Members - Bookings
The Trio plays the most wonderful collection of some of the most delightful melodies of an age when society was rather indulgent in both style of entertainment and the musical selection chosen to accompany its grand style of dining.

If you have experienced breakfast at Tiffany's, High Tea at Harrods, Dinner on board the Titanic, or Supper on the Zeppelin....This collection is for you. Immediately you are transported to the grand era when life moved a little slower and the finer movements were savored a little longer. - The selection of their music includes one of the finest - if not the finest - arrangements of the Blue Danube, Pachelbels Canon, La Paloma, Perfect Day, Danny Boy and real rare gems, whose composers are hardly known today. Their repertoire is vast and versatile compassing nights of music.

The Blue Mountains Trio was from 1996 to 1999 the major attraction at Chisolms Grand Dining Room at Jenolan Caves House. Guests were arriving from Sydney dressed up to enjoy music in Vienna style.
The Trio performed at wine festivals, grand openings and gave concerts interstate and internationally.

____________________________________

The members of the Blue Mountains Trio:

Violinist GUSTAW JOSEPH SZELSKI is of Polish/Hungarian background and was brought up on a diet of Gypsy music.
His early music education however was strictly that of a Classical musician.
He studied at the Sydney Conservatorium of Music (DSCM performance) and subsequently became leader of the Lyric Quartet and the Sydney University String Quartet.
He then freelanced including backing artists like Shirley Bassey,
Rita Hunter, John Denver and Frank Sinatra.
He later formed the Winbourne string quartett
and was very active in the 31 Note music movement
working closely together with the founder Bill Coates.

Cellist GEORG MERTENS is an international soloist and chamber musician
residing in Katoomba in the Blue Mountains .
He was born in Aachen / Germany where he started cello lessons at the age of 9.
Later he did his degrees at the reputed Staatliche Hochschule fuer Musik in Freiburg / Germany majoring in cello and Classical guitar.
He conducted the international chamber music class in the Mozart town Salzburg, toured Switzerland, France, Sweden tour and did solo recital series in the village churches of old Berlin;
in 1980 he was called head of Department to the Conservatorium of
Schleswig-Flensburg and taught in 1986/7 at UNE / Armidale.
In 1993 he recorded the complete Suites for cello solo by J.S.Bach.
He teaches today in Katoomba, Mudgee and Bathurst (see also Georg's Cello Method on the webpage 'sheetmusic').

Pianist GAVIN TIPPING did studies with the Sydney Conservatorium of Music, Trinity College London and Durham University.
He held positions including principal organist of St Mary's Cathedral, Sydney,
lecturer in composition studies at the Sydney Conservatorium of music,
Senior Project Officer with the Music Board of the Australia Council
and founding director of the Blue Mountains Conservatorium.
Gavin toured Europe and the US as soloist and accompanist
with St Mary's Cathedral Choir.
He has composed two Musicals in collaboration with Annette Charter,
the Hunchback of Notre Dame (1985) and
A Christmas Carol (1996)
and has received several commissions.



For Bookings of the Bue Mountains Trio Bookings please contact:
Georg on ph 02 4782 5440 or
Gavin on ph 0428 842846
email: georgcello@hotmail.com
For the first years their CD "Music for Grand Dining" was sold only locally, in Katoomba in the Blue Mountains in Australia (that's where the "Three Sisters" are) .
Within 2 years more than one in a hundred of Blue Mountains people owned one
(1300 copies sold - population 70 000).
One of the top hotels in Katoomba copied our "Cafe Continental" and put it on a loop.
We went in to listen and left after hearing it for the ninth time in a row.
Today - we were told - it is still playing, and everybody is well and healthy.